The biography and reviews pages are now downloadable in Chinese and Japanese:
Biography: 繁體中文 (traditional Chinese) | 简体中文 (simplified Chinese) | 日本語 (Japanese)
Reviews: 繁體中文 (traditional Chinese) | 简体中文 (simplified Chinese) | 日本語 (Japanese)
---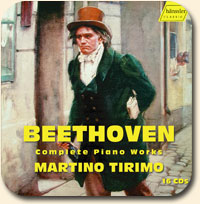 Special New Release

BEETHOVEN

: Complete Piano Works

Hänssler Classic have just released a boxed set of 16 CDs of all the solo piano works of Beethoven, recorded at the Gewandhaus in Leipzig.

Indeed this is a rare project presenting perhaps one of the most significant collections in classical music. The works can be heard in chronological order from Beethoven's earliest compositions at the age of 12 right up to the final short pieces of 1825, written some 18 months before his death. This presentation displays the composer's remarkable development from the influence of Haydn and Mozart in his youthful works to his own idiomatic language of the middle period and, finally, to the heights of great spiritual depth in the works of the final 10 years or so.

His journey, made under extraordinarily difficult circumstances, is one of the most astonishing in all music and it is one which very much determined the future direction of classical music. Without Beethoven's immense influence, who knows what would have followed Mozart?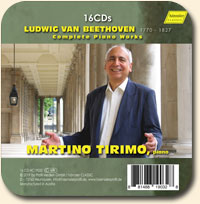 After recording all the works, and also in his research for the writing of all the Notes for the booklet, Martino has concluded that there is a much more human side to Beethoven's personality than the image that is often portrayed. His kindness, sweetness, humour and romantic fervour are not qualities one readily associates with him, and yet they abound in his music. Perhaps the surprise in this Collection are some of the lesser-known or rarely performed works, such as the Dances, many Variation sets and a variety of single pieces including Preludes, Rondos and Bagatelles. Other pieces, like the inspiring Fantasy Op.77, demonstrate magnificently his extraordinary gift for improvisation.
The boxed set (HC 19032) is made available at a special low price.
Click here for more details and a full list of works.
Also, in celebration of the composer's 250th anniversary of birth, Martino will be giving numerous Beethoven concerts and series over the next three years. More details to follow.
---
"An inspiring poet of the piano... a pianist of vision... his playing is among the most haunting and fascinating of all."
The Daily Telegraph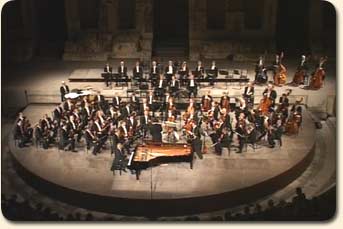 "A formidable virtuoso and one with unmistakeable magnetism."
The Guardian