News and Events
Click here for news before 2010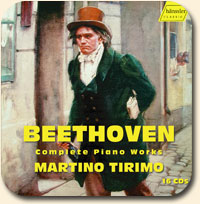 BEETHOVEN:

The Complete Piano Works

The first ever truly complete recording of
Beethoven's entire Piano Solo Works
on the modern piano

With more than 20 hours of music, this boxed set of 16 CDs (HC 19032) includes a great many pieces of fine quality which are little-known and which are bound to delight the listener, like the many elegant Dances.
The boxed set is available at a remarkably
attractive price
More recording details and a full list of works
can be viewed here
Review excerpts are available here
This rare project presents perhaps one of the most significant collections in classical music. The works can be heard in chronological order from Beethoven's earliest compositions at the age of 12 right up to the final short pieces of 1825, written some 18 months before his death. This presentation displays the composer's remarkable development from the influence of Haydn and Mozart in his youthful works to his own idiomatic language of the middle period and, finally, to the heights of great spiritual depth in the works of the final 10 years or so.
His journey, made under extraordinarily difficult circumstances, is one of the most astonishing in all music and it is one which very much determined the future direction of classical music. Without Beethoven's immense influence, who knows what would have followed Mozart?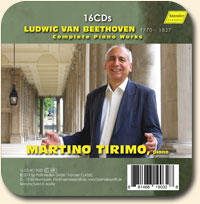 After recording all the works, and also in his research for the writing of all the Notes for the booklet, Martino has concluded that there is a much more human side to Beethoven's personality than the image that is often portrayed. His kindness, sweetness, humour and romantic fervour are not qualities one readily associates with him, and yet they abound in his music. Perhaps the surprise in this Collection are some of the lesser-known or rarely performed works, such as the Dances, many Variation sets and a variety of single pieces including Preludes, Rondos and Bagatelles. Other pieces, like the inspiring Fantasy Op.77, demonstrate magnificently his extraordinary gift for improvisation.
Also, in celebration of the composer's 250th anniversary of birth, Martino will be giving numerous Beethoven concerts and series over the next three years. More details to follow.
Recorded at the Leipzig Gewandhaus
Engineered and produced by Genuin Recording Group
Released by Hänssler Classic in October 2019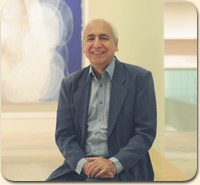 Japanese tour 2018
Following the success of his concerts in Japan in March 2017, Martino will be returning for more performances in leading halls in February 2018. These will include recitals at Philia Hall on 13 February and Kyoto Concert Hall on 14 February. Programme consists of major works by Schubert and Chopin. In addition, masterclasses will include one for PTNA, working with some of their top competition prizewinners. More details
2017年3月の初来日に続きマルティーノティリモが再来日致します。コンサートは、2018年2月13日青葉区民センターフィリアホール、2月14日京都コンサート小ホールで行なわれます。プログラムは、シューベルトのピアノソナタ第20番、ショパンのバラード、スケルツォです。またピティナ共催、福田靖子賞基金主催のマスタークラスも2月10日東音ホールで行なわれます。仔細
Far East tour 2017
In March the tour in the Far East will mark Martino's first concerts in Japan. Performances will include recitals in Tokyo on 15 March and Kyoto on 17 March. The programme will consist of works by Mozart, Chopin and Schubert - three composers whose music Martino has championed throughout his career. He will also give a number of masterclasses, working with some of Japan's finest talents.
3月日本でマルティーノの初コンサートが東アジアツアーの一貫として行なわれます。コンサートは3月15日ソノリウム東京で、3月17日京都府立府民ホールALTIです。プログラムは、マルティーノが彼の音楽人生に捧げた3人の作曲家、モーツァルト、ショパン、シューベルトです。尚、コンサート以外にマスタークラスも開講予定です。
Performances during 2016
The Great Piano Quintets
Following the enormous success of the Schubert series, in 2016 Martino turns his attention to something totally different - the Piano Quintet! A rare and most unusual series of five concerts at St. John's Smith Square, will be devoted to the great Piano Quintets and will be given by 'Martino Tirimo and friends'.
'Friends' are several distinguished string quartets such as the Carducci and Fitzwilliam Quartets, as well as Germany's Minguet Quartet who recently were awarded the prestigious Diapason d'Or. Also taking part is Martino's own Rosamunde Trio and a number of other outstanding musicians such as violinists Philippe Graffin and Lucy Russell and violists Paul Silverthorne and Vladimir Mendelssohn.
Martino is particularly delighted that Vladimir Mendelssohn will be the violist at the first concert since the programme will include the powerfully emotional Quintet of Schnittke and Vladimir was a close friend of the composer.
Wed 17 February, 7.30pm
Beethoven String Trio in C minor Op. 9 No. 3
Schnittke Piano Quintet
Brahms Piano Quintet in F minor Op.34
Wed 13 April, 7.30pm
Dvorak and Schumann Quintets
Wed 22 June, 7.30pm
Franck and Schubert ('Trout') Quintets
Wed 21 September, 7.30pm - with Fitzwilliam Quartet
Shostakovich Quartet No.4 in D Op.83
Chopin Piano Concerto No.2 in F minor Op.21 (Chopin arr. for piano quintet)
Shostakovich Quintet in G minor Op.57
Wednesday 16 November, 7.30pm - with Carducci Quartet
Mozart Quartet in B flat K458 'Hunt'
Faure Quintet No.1 in D minor Op.89
Dvorak. Quintet in A Op.81
Rosamunde Trio
On Sunday 16 October at 6.30pm the Rosamunde Trio will give its only London concert during the 2016-17 season at Kings Place for the London Chamber Music Society. The programme includes works by Mozart, Schumann, Fribbins and Ravel's great Piano Trio.
More details at londonchambermusic.org.uk
Chopin Society
Martino may also be heard in London in an all-Chopin recital for the Chopin Society at Westminster Cathedral Hall on Sunday 23 October at 4.30pm.
More details at chopin-society.org.uk
Performances during 2015
SCHUBERT: The Great Piano Works
All concerts at Kings Place, London.
This is Tirimo's first Schubert series in London since 1997, the 200th anniversary of Schubert's birth. Tirimo is renowned for his Schubert interpretations, recordings and also for his Urtext edition, described by the Guardian as 'a real Schubertian master' and by The Daily Telegraph as 'quite simply an ideal Schubert interpreter'.
15 January - Moments Musicaux, Sonata in A minor D784, Sonata in D major D850
12 March - Sonata in A major D664, 4 Impromptus D899, Sonata in C minor D958
11 June - 4 Impromptus D935, Fantasie in C major 'Wanderer', Sonata in G major D894
10 October - 3 Klavierstücke D946, Sonata in C major D840 'Reliquie',
Sonata in A major D959
9 December - Sonata in A minor D845, Sonata in B flat major D960
With Rosamunde Trio
17 March - Adrian Boult Hall, Birmingham
22 March - Kings Place, London - Programme includes Trios by Mozart and Lalo
6-8 November - Orpheus and Bacchus Festival, France - Programmes include Trios by Mozart, Beethoven, Hummel, Dvorak, Brahms, Chausson and Fribbins
15 November - Kings Place, London - Programme includes Trios by Mozart and Chausson and Brahms' Piano Quartet in G minor
Major tour in China in September
Performances during November and December 2012
11 November - Rosamunde Trio in first concert of series devoted to the complete Beethoven Piano Trios at Kings place (London Chamber Music Society).
13 November - Rosamunde Trio performing works by Beethoven, Peter Fribbins and Tchaikovsky at the Wimbledon Festival.
21, 22, 23 November - Beethoven Piano Concerto No.3 with Cyprus Symphony Orchestra.
29 November - Works by Beethoven, Vassos Nicolau and Tchaikovsky in recital at Beethoven Haus in Bonn.
8 December - Beethoven Piano Concerto No.5 ('Emperor') at the Barbican Hall with Academy of St. Martin in the Fields.
14 December - Chopin Andante spianato and Grand Polonaise and Beethoven Choral Fantasia with the Romanian Radio Symphony Orchestra in Bucharest.
Tchaikovsky Week at Kings Place
Martino is curator of a Week of Tchaikovsky concerts at Kings Place, London, in May 2012. On 16 May he will perform a solo recital which will include 'The Seasons', 'Doumka' and 'The Nutcracker'. On 18 May the Amar Quartet will present two of the three String Quartets and on 19 May the Rosamunde Trio will perform the composer's great Trio as well as music for violin and piano and also the 'Rococo' Variations for cello and piano.
Nemitsas Foundation Prize
On 16 September 2011 Martino received the prestigious Nemitsas Foundation 2011 Prize from the President of the Republic of Cyprus at a ceremony at the Presidential Palace, for excellence in the Arts and Sciences (www.nemitsasfoundation.org).
50th Anniversary Concert in Brussels
In celebration of the 50th anniversary of the Republic of Cyprus in a special concert on 12 October 2010 at the Flagey in Brussels, Martino performed Beethoven Concerto 5 with the Academy of St. Martin in the Fields and Sir Neville Marriner. The audience also included politicians, diplomats, princes and other dignitaries.
Chopin Unwrapped: The Complete Works
In celebration of the 200th anniversary of Chopin's birth, Kings Place presented a unique series of 12 concerts in the first half of 2010, Chopin Unwrapped, in which the composer's entire works were heard. Martino was the artistic director and performed all solo works and all works for piano and orchestra in 10 of the concerts.
Click here for the full programme.
Martino discussing Chopin and the series
In a performance of Chopin before the series